Design & Proposal Strength
Using High Quality Design Technology of 3 Dimension Solid Design
Alphatec introduces 3 dimension solid design early and utilizes it in every product design of part, mold and jig.
Alphatec carries out verification of formability, machinability and productivity of items in a state close to that of a finished product all starting from the design stage in order to improve design quality.
Alphatec shares 3D data and utilizes it in production technology activities, mold manufacture and quality assurance activities in order to improve product quality.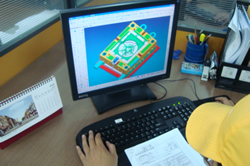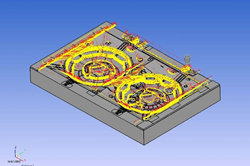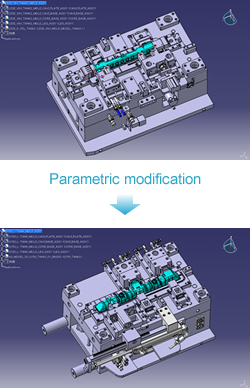 Alphatec mold design uses software of
Unigraphics NX 7.0


Alphatec Modularizes the part of mold base, slider etc., establishes part template, and adopts it into the other mold design.
Expert designer's classic design case also be adopted into the template, not only improve the design quality but also eliminate the gap between experience.
Alphatec uses the 3 dimension design and template technology to improve the design quality and reduce the design time.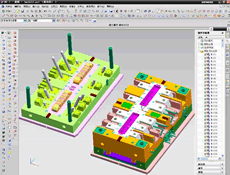 Start anticipate and assist for part design on the conception stage
Alphatec verifies the part formability, machinability and productivity on the stage conception, and give corresponding answer as part proposal.
Alphatec fills the incompatible point into the "design checking list" On the process of verification, adds these points also into other parts design verification.
Alphatec imports CAE technology, forecasts the incompatible point, advances the solution to improve the design quality.
Parametric & Modeling
In the environment of modeling, make template for mold essential and design technology, use these templates to reduce the lead time.
Alphatec modifies parameter to neatly making the similar part design and design change in short time.